Owl
Profile
Kanji
オウル
Romaji
Ōru
Personal Details
Status
Alive
Gender
Male
Occupation
Inspector
Professional Details
Affiliation
ACCA 13
Department
Inspections Department
Rank
Section Chief
Debut
Manga
Chapter 1
Voice Actors
Owl is the head of the inspections department. He eats snacks in a separate room. Because of severe motion-sickness, all of the area inspections were left to Jean. It is revealed in the last episode of the anime that Owl is Abend, and has been the one instructing Nino to look after the Otus children.
Appearance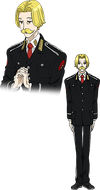 Personality
History
Ad blocker interference detected!
Wikia is a free-to-use site that makes money from advertising. We have a modified experience for viewers using ad blockers

Wikia is not accessible if you've made further modifications. Remove the custom ad blocker rule(s) and the page will load as expected.