Knot
Profile
Kanji
ノット
Romaji
Notto
Personal Details
Status
Alive
Occupation
Staff Member
Professional Details
Affiliation
ACCA 13
Department
Inspections Department
Debut
Manga
Chapter 1
Anime
Episode 1
Voice Actors
English
Josh Grelle
Knot is an official working in the inspections department in the main office. He has 3 children, a 3 years old, 5 years old and a 7 years old child. His wife has left him but he still have the fatherly, homely character.
Appearance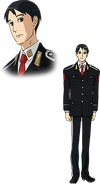 Personality
History
Ad blocker interference detected!
Wikia is a free-to-use site that makes money from advertising. We have a modified experience for viewers using ad blockers

Wikia is not accessible if you've made further modifications. Remove the custom ad blocker rule(s) and the page will load as expected.